Video Shows Mom Kicking Child Out For Voting For Trump In Mock Election
"As a parent, I find the video appalling. As your Sheriff, I have ensured the child is safe."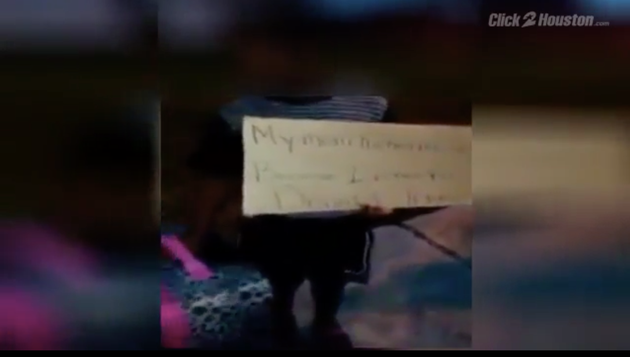 A Texas woman is under investigation after a video surfaced showing her appearing to kick her 7-year-old son out of her house because he voted for Donald Trump in a mock election at his school.
The disturbing video caught the attention of the Fort Bend County Sheriff's Office after the foul-mouthed mother posted it to Facebook last week, KPRC reported.
"You get your s*** and get out," the woman is heard telling the child before he hysterically sobs in a hallway. "Your suitcase is packed by the door. Been packed since 10 a.m. this morning."
Warning: The following video may be disturbing to some viewers.
She then hands him a cardboard sign reading: "My mom kicked me out because I voted for Donald Trump."
"So when the people see you outside, they know why you're standing out there," she tells him.
The woman follows the child out onto the street and continues to berate him as a younger child wearing a diaper stands nearby. At one point she asks the boy why he voted for Trump. He replies that it's because he saw him on TV a lot.
Fort Bend County Sheriff Troy Nehls confirmed that his office is investigating the incident and that the boy is safe.
"As a parent, I find the video appalling. As your Sheriff, I have ensured the child is safe," Nehls stated in a Facebook post.
Nehls added that detectives visited with the boy Friday night and that Child Protective Services, the district attorney's office and the Fort Bend Independent School District's Police Department are also investigating the incident.
"We all agree the video is absolutely disgusting and that child should not have been subjected to such awful behavior by his Mother," Nehls concluded.